Jiemin Jordan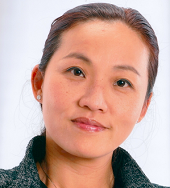 Jiemin Jordan
Mentor in Residence / Managing Partner: Decisive Investment Group
---
Jiemin Jordan, the Managing Partner of Decisive Investment Group, is a seasoned entrepreneur and an investor. She serves as a mentor and an investor of Mach37, a cybersecurity accelerator and several local angle groups. Over the past 4 years, Jiemin has built over $16M investment portfolio, focusing on short-term debt financing and equity investment.
Prior to Decisive, she was the founder and CEO of Endeavor Systems, Inc., a cybersecurity firm providing products and solutions to US market since 2003. Endeavor Systems was recognized by Entrepreneur Magazine as one of the 100 fast growing companies in America. In 2012, Endeavor Systems was acquired by Telesis Corporation as a subsidiary.
As the CEO of Endeavor Systems, Jiemin managed the day-to-day operations and provided the strategic direction for Endeavor's long-term growth, which includes building the Endeavor culture, process, and the management team, identifying the technology, product and marketing strategies, and maximizing earning potentials.
In 2005, Endeavor Security Inc., a subsidiary of Endeavor Systems offering enterprise intrusion prevention and malware detection & analysis products, was spun off and was acquired by McAfee in 2009.
Prior to Endeavor, Jiemin had held increasing management responsibilities in the Internet, satellite and mobile communication industrials, such as Sprint, Nextel, Orbcom, PanAmSat, and VeriSign.
Office Hours: Mondays 1pm - 3pm