Daron Coates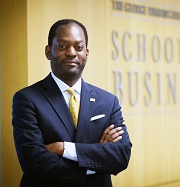 Daron Coates
Mentor in Residence / Managing Director: ThinkBox Group
---
Contact:
Daron is an entrepreneur and investor. He is the co-founder of ThinkBox Group, which develops sustainable projects that fix aging equipment in buildings, generate renewable power, upgrade building technology, create healthier environments and reinvest in local communities.
Daron has developed more than $200M in projects over his career that are on track to save more than $210M in utility and repair costs. ThinkBox's approach has helped the largest utility consumer in the District of Columbia save over $100M to date.
Daron is also the co-founder of ThinkBox Ventures, an independent investment vehicle, concentrating on underutilized assets and underserved customer segments.ThinkBox has launched the Sustainable Communities Project® a public, private, philanthropic partnership to support underserved and overlooked communities.
Prior to launching ThinkBox, Daron was a corporate executive for Honeywell, International. Daron was a member of one of the earliest corporate venture teams that successfully launched the market for renewable energy. He earned the company's highest sales awards and was accepted into the "High Talent Program" for rising C – Level caliber executives.
Daron also serves as a Mentor-In-Residence for Entrepreneurship and a Board member at the George Washington University school of business.
Daron supports his local community through his service on the Board of Trustees for the Arlington Community Foundation.
Daron earned a BA in business administration from Morehouse College and a MBA from The George Washington University.
Office Hours: Tuesdays, 3PM - 4PM; Thursdays, 3PM - 4PM